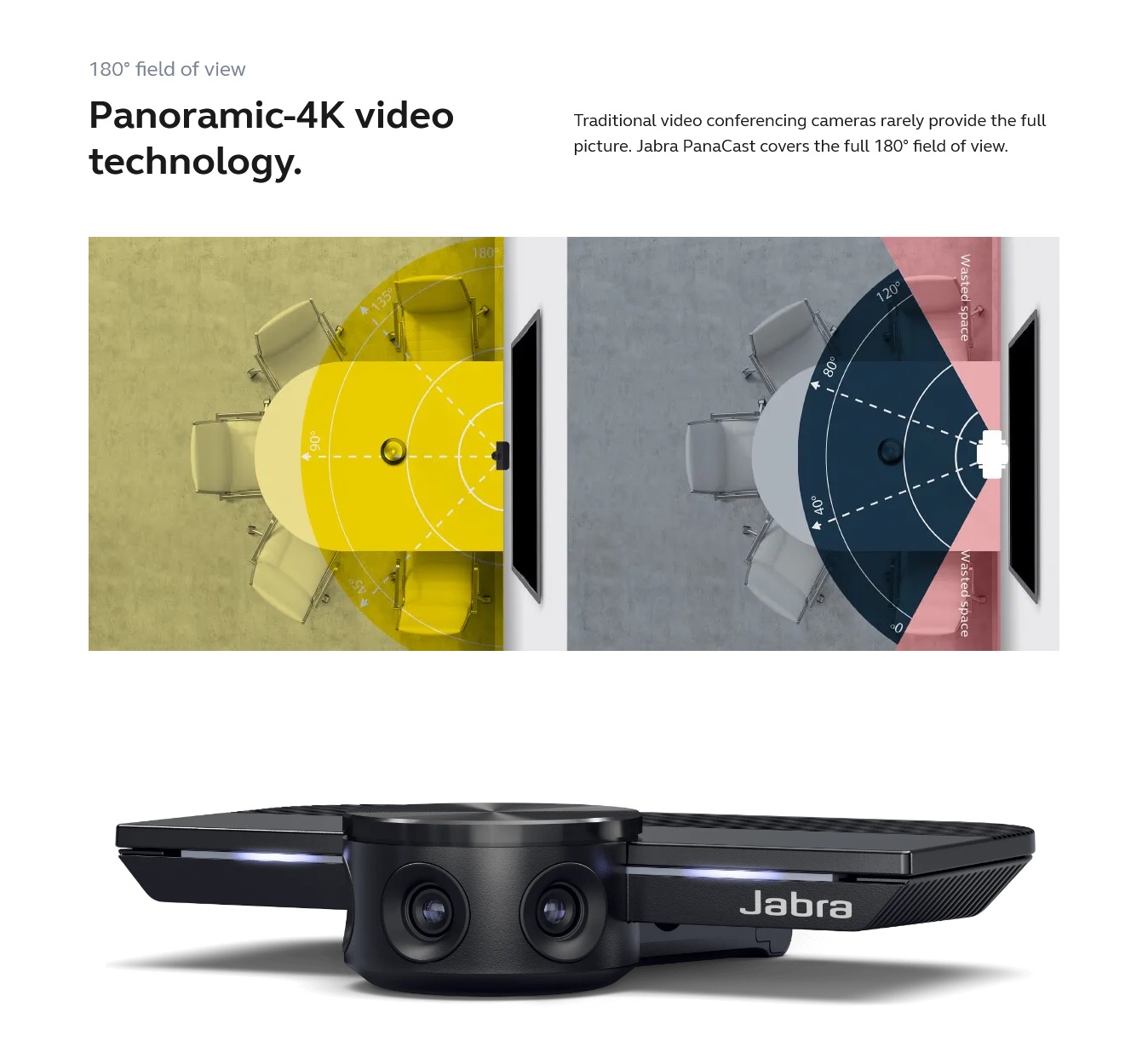 The Jabra PanaCast is a plug-and-play device, designed to improve meetings in huddle rooms by using three 13-megapixel cameras and real-time video stitching to give a full 180° view. Its Intelligent zoom automatically includes everyone in the conversation, while Vivid HDR ensures a great video experience, even under widely varying lighting conditions. The Jabra PanaCast has Plug-and-play capability that makes collaborating fast and easy, simply plug the Jabra PanaCast into your laptop or computer's USB port and you're ready to go. The Jabra PanaCast works with all leading video and audio conferencing solutions and is certified for use with Microsoft Teams.
PanaCast Features:
Video:
Field of view: Horizontal 180° / Vertical: 54°
Number of cameras: 3
Light control: Brightness, Contrast, Saturation, Sharpness and White Balance
Stitching technology: Dynamic real-time stitching technology, running in the onboard PanaCast Vision Processor
Supported resolutions: Panoramic-4K: 3840 x 1080 @ 30fps, 1080 Full HD: 1920 x 1080 @ 30fps, 720p HD: 1280 x 720 @ 30fps
Audio:
Microphones: 2 built-in microphones
Ease of use:
Camera controls: Electronic Pan-Tilt-Zoom (ePTZ)
Adjustable field of view: Choose between 90°, 120°, 140° and 180° through Jabra Direct
Flexible mount: For easy placement on top of your monitor or laptop
Connectivity:
USB plug-and-play: USB-C port
Powered by: USB 3.0 cable
System requirements: Windows 7 or above, macOS X 10.9 or above, Linux Ubuntu 16.x or above, Chrome OS, USB 3.0 (supports USB 2.0 through the Jabra USB hub)
Certifications: Microsoft Teams
Compatibility: Zoom, Cisco Webex, Slack, Google Hangouts and more.